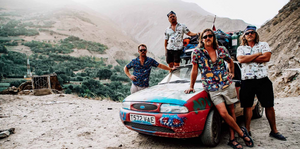 The Story of Baja Llama
and why you're a xxx
if you don't join us!
MisAdventure Masters
One willing to go far and say yes in search of adventure and excitement
The Baja Llama experience began out of a pure desire to create the world's most radical apparel rooted in adventure, art, boundless exploration, and an unwavering commitment to Fight Against Boring. We believe with a forceful conviction that you should go far, say yes, and submit to nothing but opportunity.
Our specialty is making the world's finest button ups with hand-painted prints that tell stories through art. We partner with artists from around the world to tell our stories of traversing the planet on our endless quest for excitement. The result is apparel that represents the exploits of our MisAdventures - meant to convey all that is astonishing from the depths of our seas and the all-encompassing bewilderment of our existence.

We are not an adventure apparel company. We are a company of MisAdventurists that make stunning and practical apparel to function well at the beach or the boardroom.

Founders - FIGHT AGAINST BORING
Jeff Anderlite + Sean Kolina